JOHN BOYEGA has called Netflix show She's Gotta Have It "trash" over a scene that displays significant ignorance about the black British experience and makes fun of his name.
The second series of the show created by Spike Lee and based on his 1986 film of the same name, has been available to stream since May 24.
The scene that has caused controversy involves the lead character, Nola Darling (DeWanda Wise) and Olumide Owoye, played by African-American actor Michael Luwoye.
In the scene, the pair get into a discussion about black British actors getting roles in Hollywood, slavery and oppression.
Darling says: '[Black British actors] need to fall back and fall away from taking all of our roles, like we have dope, talented, trained, qualified black actors right here in the States.
"But at the end of the day, black Brits just come cheaper."
In response, Owoye, a British character, says: "I agree somewhat. But black British actors are better suited than black American actors for Stateside roles because they don't carry the burden of f****d up black American history, of lynching, slavery, Jim Crow, all that."
He adds: "Black Brits are free of the psychological burden and therefore they can really delve into black American s***."
Darling goes on to refute that black Brits are unburdened, referencing the Atlantic slave trade but concludes that black Brits have "Stockholm syndrome and fell in love with your captors".
Reacting to this part of the scene, Boyega simply quote tweeted a clip of the discussion with the word "trash".
He also retweeted reporter Ade Onibada's tweet which discussed another part of the episode in which Darling butchered Chiwetel Ejiofor and John Boyega's names.
Darling says: "I'm not mad at Chewy-toy Ijeda-tofu. I'm not mad as John Puerto Rican Bodega."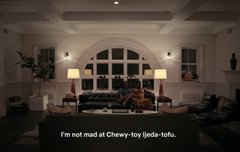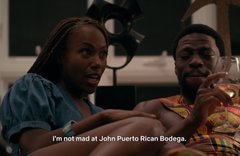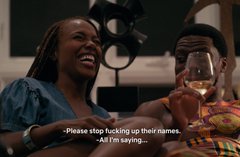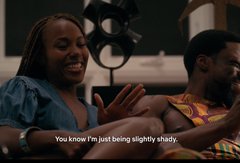 Can't lie, the deliberate mispronunciation of their names doesn't sit right with me. Not only childish but I think of the cultural emphasis we place on names and the known conversation of African names being butchered in certain spaces…so why are we doing this to each other?4,84511:00 AM – May 28, 20192,009 people are talking about thisTwitter Ads info and privacy
Actor and director Femi Oyeniran referred to the exchange as "nonsense", while Nigerian playwright Bola Agbaje pointed out numerous issues with the scene, including a faux pas
"Trashhhh! First of all…no1 can take this seriously when ooolu is Nigerian is in a kente cloth. What kind of BTEC level 3 argument are they even having? Olu's accent…And this is why I tell my US agents I want to tell black British/African stories. Cos Spike, this ain't it mate," Agbaje wrote.
And it's not just black British actors that have expressed their disgust at the dialogue and the ignorance it portrays. Many viewers have shared their thoughts on social media.
"#ShesGottaHaveIt2 was trash, black Brits allegedly having Stockholm syndrome and being in love with their captors was laughable. Completely disregarded that black people are in the UK because the UK took everything from our countries during slavery and colonialism," one commenter wrote.
JJ Bola tweeted: "Lol, according to #ShesGottaHaveIt2 Black British people have Stockholm syndrome. Lol Lol Lol.
"This African American/Black Brit conversation is literally the epitome of the two Spiderman pointing at each other meme."
"African Americans really lack the RANGE in speaking about 'Black Brits' so should really mind their business and focus on their own oppression lol," one critic tweeted.
Some Americans have sought to distance themselves from the opinions promoted in the scene.
Kimberley Nicole Foster said: "This show does not represent the views of Black American millennials."
But others agreed and felt the conversation reflected reality.
One Twitter user said: "I get you're annoyed but this is actual dialogue I've had with Black Brits, I think this is why Spike put it in there…"