IN A general election that brought disastrous results for Labour and saw it experience big losses across the country, the majority of the party's African Caribbean MPs were re-elected, in some cases with increased majorities.
Several sitting BME Conservative MPs also tasted success and were re-elected by voters.
However there was disappointment for some high profile names, most notably former Streatham MP Chuka Umunna.
Here, The Voice takes a look at the results.
Chi Onwurah, re-elected as Labour MP for Newcastle-upon-Tyne Central
Onwurah's victory was the first result to be declared in the country.
She received 21,568 votes compared to her Conservative rival Emily Payne's 9,290.
However there was also a decline in Labour's margin of victory.
Taking to Twitter, Onwurah said: "Thank you to everyone in #NewcastleCentral for re-electing me as your Member of Parliament. Representing you is the best job in the world and it will be a privilege to continue stand up for you in Parliament. THANK YOU!"
Adam Afriyie, re-elected as Conservative MP for Windsor
Afriyie's successful election result was announced at the Magnet Leisure Centre in Maidenhead.
He retained his seat after winning 31,501 votes, comfortably beating second place Liberal Democrat candidate Julian Tisi, who received 11,422 votes. Labour's Peter Shearman received 8,147 votes.
Afriyie said: "My heartfelt thanks to Windsor for re-electing me. It's a privilege which I do not take for granted. I will continue to serve all constituents no matter how you voted. Thanks to the British people for wisely deciding to move on. We must now be a one nation nation."
Bim Afolami, re-elected as Conservative MP for Hitchin and Harpenden
Voters in Hitchin and Harpenden opted to keep faith with Conservative candidate Bim Afolami who has held the seat since the last general election in 2017.
Speaking about his victory, Afolami wrote on Twitter: "It's a huge honour to have been re-elected MP for Hitchin and Harpenden. Thank you to my constituents for putting their faith in me again. I also want to thank my team and the whole Association for their amazing work and dedication. Couldn't have done it without you all!!"
Chuka Umunna, defeated as Lib Dem candidate for Cities of London and Westminster
The former Labour MP and Change UK founder came second behind Conservative Nickie Aiken losing by 3,953 votes.
Umunna, a former Labour leadership candidate, who was once dubbed the 'British Obama' vowed to continue as a Liberal Democrat.
He said: "We must respect the choice the people have made today, both to re-elect Boris Johnson and the Conservatives into government, and for Labour to continue as the Official Opposition. I wish them the very best – it is in all our interests that they live up to the trust invested in them today.
"In particular, congratulations to Nickie Aiken, the new Member of Parliament for the Cities of London and Westminster."
Umunna added: "For the liberal, internationalist, pro-European, progressive, centre-ground of British politics, the Liberal Democrats still have a vital role to play, despite the disappointing results of this general election."
Sam Gyimah, defeated as Lib Dem candidate for Kensington
There was also disappointment for former Conservative MP and government minister Sam Gyimah.
Like Umunna, he quit his party – he was one of 21 Tories who had the whip removed – after rebelling against Boris Johnson over Brexit. Earlier this year he joined the Lib Dems.
Voters in his former constituency of East Surrey voted in another Conservative, Claire Coutinho who won the seat with a majority of 24,040.
Clive Lewis, re-elected as Labour MP for Norwich South
Former TV reporter Lewis eased to victory polling 27,766 votes and a majority of 12,760, well ahead of Conservative candidate Michael Spencer.
One of the Labour MPs who held onto their seat was Mr Lewis, albeit with a reduced majority.
Clive Lewis eased to victory to hold on to his seat of Norwich South in the 2019 General Election.
However his election sparked rumours of a leadership challenge.
Speaking to a local reporter after the count he said he wanted to "take the left and centre of the party, and beyond, and be able to defend our democracy and be in a position where aggressive politics of this country can challenge the Conservatives.
"That's going to be a lot of hard work and I want to be at the forefront of that and I want to be in a leading role."
Asked directly whether he would consider a leadership bid, he said: "I wouldn't rule it out".
David Lammy, re-elected as Labour MP for Tottenham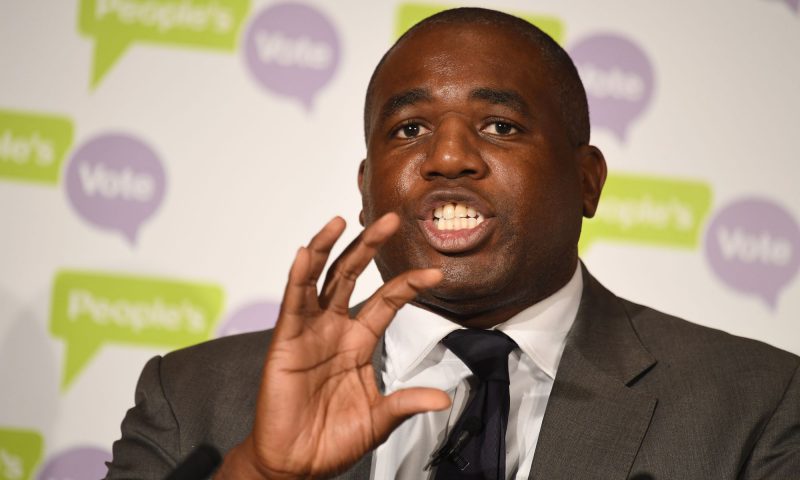 Lammy managed to hold onto his seat on a night that proved disastrous for his party.
He received 35,621 votes, representing a 76 per cent share of the vote. James Newhall of the Conservatives was in a distant second place with 5,446 votes.
However writing about the night's results on Twitter Lammy said: "This looks abysmal. The result will be devastating for communities like mine all around the country who are now facing five years of Boris Johnson with unchecked power. I am more fearful for our country than at any point in my lifetime."
Dawn Butler, re-elected as Labour MP for Brent Central
Despite a low-key campaign, the shadow secretary of state for women and equalities won with 31,779 votes, compared with 38,208 in the 2017 election
Speaking from the stage at the Brent Civic Centre after getting her result, Butler thanked her supporters and said: "I'm sorry and disappointed at the result.
"It's really hard when you have your surgeries and your constituents come to see you and they are struggling to eat, struggling to heat their homes, struggling to pay the rent.
"We have a rise of foodbanks in Brent and I fear that will get worse."
She added: "I'm sorry for the country, I'm sorry for the result and I'm sorry that we didn't do it and we haven't got a Labour government.
"But we will fight on and we'll fight on to make this country fairer and make this country better."
Conservative David Brescia finished second with 10,909 votes.
Diane Abbott, re-elected as Labour MP for Hackney North and Stoke Newington
The shadow home secretary was re-elected as MP for Hackney North and Stoke Newington with a huge majority – she received 39,972 votes, giving her a vote share of 70.3 per cent.
Conservative candidate Benjamin Obese-Jecty was the runner-up with 6,784 votes, followed by Alex Armitage for the Green Party with 4,989 votes.
Following her election Abbott said: "I would like to thank my political opponents for a clean fight in this election. I am sorry I can't say the same about the national Tory party or sections of the media."
Abbott repeatedly declined interview requests throughout the count.
She added: "I also want to thank the people of Hackney, who yet again have humbled me with the faith that they have placed in me."
Eleanor Smith, defeated as Labour candidate for Wolverhampton South West
Labour's Eleanor Smith lost the Wolverhampton South West seat to the Conservative candidate Stuart Anderson following what turned out to be a close battle for the city seat.
He received 19,864 whereas Smith won 18,203, giving Anderson a majority of 1,663.
Smith told the local Express & Star: "This is politics, you win some, you lose some. I won in 2017 and I lost this time. As far as I'm concerned the people of Wolverhampton South West have embraced me and I didn't lose by that much.
"My only concern now is my NHS but I believe that's gone after what's happened."
Helen Grant, re-elected as Conservative MP for Maidstone and The Weald
Former government minister Grant was re-elected to her seat by a comfortable margin.
She received 31,220 votes beating Labour's Daniel Robert Wilkinson who received 9,448 and James Martin Willis – Liberal Democrats – 8,482
Writing on Twitter, she said: "Thank you from the bottom of my heart to the wonderful people of #MaidstoneandTheWeald for again placing their trust in me as their MP. I am hugely honoured to serve this fabulous community and look forward to continuing to work tirelessly for the issues that matter to us all."
James Cleverly, re-elected as Conservative MP for Braintree
Voters in Braintree backed the return of Cleverly, who is the Conservative Party chairman, in the 2019 general election.
The result means the Conservatives have held onto the seat they gained from Labour in 2005.
Cleverly received 34,112 votes, giving the party a 67.5 per cent vote share over the Labour Party in second.
Kate Osamor, re-elected as Labour MP for Edmonton
Osamor was another Labour MP who enjoyed a successful election result despite what happened to her party across the country.
She received 26,217 votes beating James Hockney from the Conservatives who got 10,202 votes and David Schmitz, from the Liberal Democrats who got 2,145 votes.
Osamor said: "Thank you. It is a huge privilege to be re-elected to represent Edmonton. I have lost many friends & colleagues on a grim night for Labour. I promise to lead and to learn from the lessons of defeat. Thank you everyone who put their trust in me again."
Kemi Badenoch, re-elected as Conservative MP for Saffron Walden
Conservative Kemi Badenoch was re-elected as MP for Saffron polling 39,714 votes to beat Liberal Democrat Mike Hibbs (12,120) in second, Labour's Tom van de Bilt (8,305) in third and the Green Party's Coby Wing (2,947) in fourth.
Her majority of 27,594, is up from the 24,966 in the June 2017 General Election, when she became the first woman to represent the constituency.
After the results were announced Badenoch spoke to her supporters.
She said: "I thank the constituents of Saffron Walden, from Chesterford to Chelmsford, everybody I have spoken to and who voted Conservative. I represent all the residents of this constituency, whoever you voted for.
"I thank the Prime Minister for calling this election, which means we can now end the deadlock at Parliament and get Brexit done. I also have priorities for this area to increase school funding and keep our communities safe."
Kwasi Kwarteng, re-elected as Conservative MP for Spelthorne
Staunch Boris Johnson supporter Kwarteng comfortably held on to his Spelthorne seat.
The former Brexit minister received 29,141 votes compared to the 10,748 of Labour's Pavitar Kaur Mann who came second.
Kwarteng, who has been the MP for Spelthorne since 2010 said he was "hugely honoured" and "proud" to have won by his biggest majority so far in the borough.
Speaking at the count, he said: "It's my best majority that I've ever had and I'm very, very happy to take Spelthorne forward, to champion local issues but also to talk about national issues as a government minister I've been very lucky to have been appointed to."
Marsha de Cordova, re-elected as Labour MP for Battersea
Marsha de Cordova won 27,290 votes, 45.6 per cent of the total share, defeating Conservative Kim Caddy, who had 21,622.
Following the result, de Cordova, currently the shadow minister for disabled people, thanked her staff.
She said: "Our brilliant team have coordinated one of the most energetic, organised, dynamic campaigns I have ever seen. I am proud to have a team led by women."
Sir Mark Hendrick, re-elected as Labour MP for Preston
The election victory for Sir Mark, who was re-elected with a comfortable 12, 146 majority means that he will mark his twentieth year as an MP.
However he expressed disappointment at how the Labour Party had done across the country.
He said: "We will have to mull over the result," he said. "I think we need to start thinking about what sort of policy platform we need and whether or not we need change at the top of the party – where we want to pitch ourselves for the future so that when the next election comes we will win it."